Fire destroys Alpharetta neighborhood clubhouse | News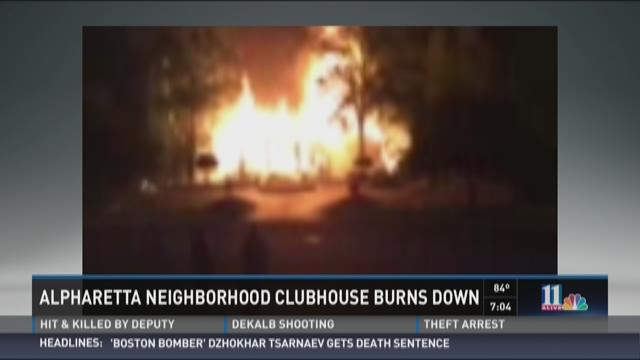 ALPHARETTA, Ga. -- Arson investigators are looking into what may have caused a fire that destroyed an Alpharetta neighborhood clubhouse Saturday morning.
It happened off Seal Drive in the Kimball Farms neighborhood.
The Alpharetta Fire Department said crews responded around 3:50 a.m. to find the clubhouse in flames. The building was a complete loss.
Firefighters said the arson investigators are part of standard procedure.
"Orange flames coming up; it just looked like a bomb was over there," said Kenedy Thorne.
She said the noise from emergency crews woke them up.
Neighborhood Association President Ronald Schindler rushed over to check out the damage when neighbors started calling him about the fire.
"I'm dumbfounded; I did not expect this this morning," he said.
Schindler said the facility is frequently used and the community was working to improve it.
He said construction crews were doing some work on the roof and the deck.
Building materials and dumpsters still remain in the clubhouse parking lot. Schindler said they were on track to have the work completed in the next two weeks.
That project is now on hold as investigators work to find out exactly what happened.
Several tennis courts and a playground behind the clubhouse were not damaged.
A steady stream of homeowners made their way over to look at the damage, wondering what could have caused the fire.
"A lot of us were in disbelief," said neighbor Mark Thompson.
He said the loss comes at the worst time as neighborhood kids near the end of school and the beginning of swim season.
"Didn't really believe it until I saw it," said Thompson. "It's gonna be rough for the kids with swim season because of all our pool equipment."
Kenedy Thorne is one of those teens who will miss the pool.
"It's gonna be really hard to find somewhere else to hang out this summer - to cool down and have fun," she said.