Bobbi Kristina aunt has outburst after leaving funeral | News
ALPHARETTA, Ga. -- Bobbi Kristina Brown's aunt had harsh words for another family member after the funeral of her niece on Saturday.
Funeral services were held Saturday for the 22-year-old daughter of the late Whitney Houston and Bobby Brown. Bobbi Kristina Brown passed away on Sunday, several months after being found unresponsive in the bathtub of her Roswell townhome.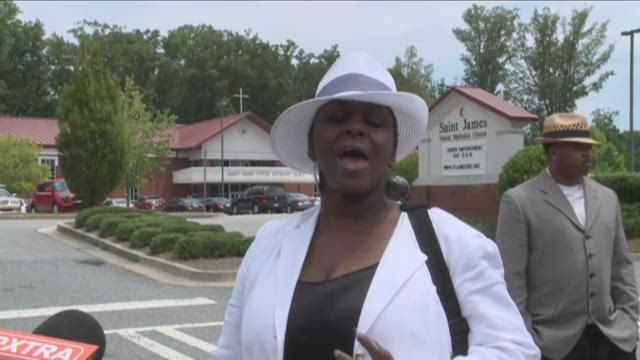 Leolah Brown, Bobby Brown's sister, was seen leaving the funeral services for Bobbi Kristina Brown early, telling the press that she didn't like that another aunt of Bobbi Kristina, Pat Houston, was speaking.
"I told her that Whitney was going to haunt her from the grave," Leolah Brown said. "She's just being the phony person that she is."
On Wednesday, Leolah Brown posted a message on Facebook stating that Pat Houston, the sister-in-law of Whitney Houston, was soliciting funds for her foundation in the memory of Bobbi Kristina. A portion of that message said:
PLEASE DO NOT SEND ONE RED CENT! As she has not even sat down & spoken to my brother Bobby, who is Bobbi Kristina's father, about this. This is part of the proof that her intentions are very ill. This is nothing more than another scheme of Pat Houston, to try to get money put into her account for her personal gain. There is much evil hidden behind this foundation.
According to its website, Pat Houston's organization, the Marion P. Foundation, is a youth outreach program whose "mission is to reach our youth through positive events and activities as well as build lasting relationships with them that will strengthen our community and future generations."
On Saturday, Leola Brown continued her attack on Pat Houston.
"This is not something that just happened," Leolah Brown said. "This is going to be connected. I'm angry at Nick [Gordon], I'm angry at what happened to my niece, but Pat had something to do with it."
Nick Gordon, Bobbi Kristina Brown's longtime boyfriend, reportedly did not attend the services, which were held at St. James United Methodist Church in Alpharetta.

In late June, the conservator for Bobbi Kristina filed a lawsuit against Gordon, alleging that he assaulted her and took money from her estate without her permission.


Leolah Brown, the sister of Bobby Brown, promised to share more information in the future.


MORE NICK GORDON AND BOBBI KRISTINA STORIES
* Family bids farewell to Bobbi Kristina Brown
* Reports: Bobbi Kristina to be buried next to mother
* Bobbi Kristina Brown funeral arrangements made
* Who will inherit Whitney Houston's millions?
* Bobbi Kristina Brown passes away
* Bobbi Kristina family comments on condition amid 'white tent' speculation
* Families putting aside differences to be with Bobbi Kristina
* Bobbi Kristina's aunt enraged over hospice photo
* Bobby Brown, wife welcome baby daughter
*

Families putting aside differences to be with Bobbi Kristina

*

Lawsuit: Nick Gordon assaulted Bobbi Kristina, stole thousands

* Bobbi Kristina Brown moved to hospice care
* Bobbi Kristina Brown's aunt disputes media 'lies'
* Bobbi Kristina's boyfriend begs to see her
* Bobbi Kristina's condition 'not improving,' Cissy Houston says
* Deal reached in Bobbi Kristina Brown guardianship
* Bobbi Kristina grandmother: Brain damage 'irreversible'
* Bobbi Kristina is awake, Bobby Brown tells concert goers
* Bobby Brown talks about Bobbi Kristina
* Bobbi Kristina Brown's grandmother breaks silence
* Bobbi Kristina Brown's cousin arrested in Atlanta
* Bobbi Kristina's boyfriend falls apart on Dr. Phil
* Report: Nick Gordon to do TV interview with Dr. Phil
* Bobbi Kristina Brown reality show reports 'nonsense', lawyer says
* Bobbi Kristina suffers seizures
* Bobbi Kristina's boyfriend sounds off on Twitter
* Bobbi Kristina Brown's boyfriend prohibited from hospital visits, lawyer says
* Bobbi Kristina Brown prepared to be taken out of medical coma: source
* Bobbi Kristina Brown's boyfriend 'desperately' wants to see her
*

'Bobbi Kristina' tattoo posted by Nick Gordon

* Bobbi Kristina family on pulling life support: 'We wouldn't do that'
* Bobbi Kristina Brown in crash before medical emergency
* 'False' Bobbi Kristina reports strongly blasted
* Bobby Kristina's family involved in hotel fight
*

Cissy Houston heads to Bobbi Kristina's bedside

* Whitney Houston's daughter in medically-induced coma
* Bobbi Kristina Brown is 'not brain dead'
* Bobbi Kristina Brown not married to Nick Gordon, attorney says
* Why Bobbi Kristina Brown is in a medical coma
* Bobbi Kristina tweets she and Nick Gordon are married
* Bobbi Kristina may have left nasty note for Alpharetta neighbors