Fans gather to watch Bobbi Kristina funeral from afar | News
ALPHARETTA, Ga. -- As family members are friends arrived to say their final goodbyes to Bobbi Kristina Brown, fans of the family gathered across the street with thoughts on 22-year-old life, gone so soon.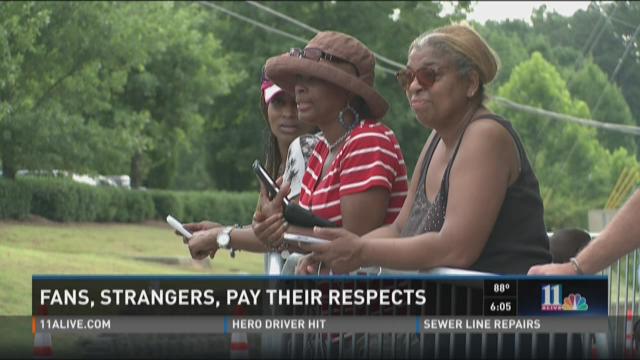 "I can't imagine what it would feel like to lose a child so early," said Reo Wallace. "I'm a Whitney Houston fan. I'm a Bobby Brown fan and I really wanna see some closure for this family."
She drove nearly an hour from Conyers and was one of the first of dozens who came out to see the funeral service from afar.
"That was the least that I could do, just show support," said Wallace. "We love Bobbi. She was the child of two big celebrities and she was born into that. She didn't ask for that."
Adriane Gregory and her family planned a trip in Atlanta, and drove about 17 hours from Connecticut in part to stop by the service. She says her heart goes out to the families after so much loss.
"It's sad, especially for her. I feel bad for her and her mother, the family, Bobby Brown, Cissy Houston I really do feel bad for them," said Gregory.
Neighbors from the condos across the street from Saint James United Methodist Church knew the funeral would impact their Saturday, with barricades and cones lining the road that leads to their homes. Many, like Debbi Bement, came out to watch as well.
"I feel a necessity to pay my respects. I've seen Bobbi Kristina around the neighborhood since I've lived here for 14 years and it's an incredible sense of sadness." said Bement.
Now as the Houston and Brown families continue to mourn their loss, those looking on from behind the barricades want them to know that their thoughts are with them.
"I just feel terrible for Cissy Houston and the fact that she's now lost a daughter and a granddaughter," said Bement. "I just want them to know that the community is praying for her and for the whole family."