Police: Drunk APD officer Tased after trying to kiss women | News
ALPHARETTA, Ga. -- Alpharetta police say they arrested an Atlanta police officer after his drunken attempts at kissing several people led to a shoving match.
According to the Alpharetta Police report obtained by 11Alive News, Scott Perry was arrested Saturday night. Police were called to the Hyatt Place on North Point Parkway just after 9:30 p.m. Hotel guest Genesco Carvalhais told police he and his girlfriend were eating at the hotel's restaurant when they were approached by an intoxicated man. The man, later identified as Perry, made inappropriate comments to his girlfriend, tried to kiss her, then took a plate of food off their table. When Carvalhais tried to get his food back, Perry allegedly tried to kiss him. In the pushing match that followed, Carvalhais's shirt was ripped and his watch and necklace were damaged.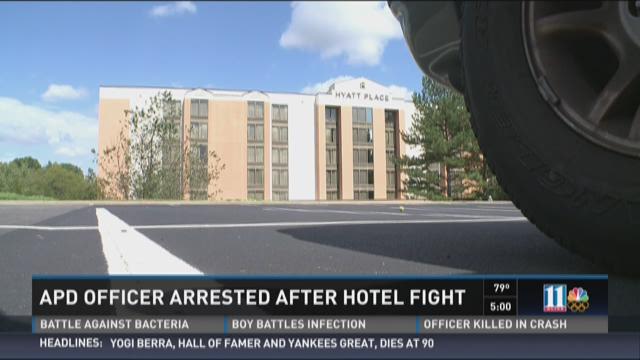 POLICE REPORT | 
Read the full police report from Alpharetta 
Perry got up off the floor, and then approached another couple sitting at the bar. Sonia and Mark Durcho said Perry again made inappropriate comments to Sonia and tried to kiss her. 
A hotel employee helped police connect the man at the center of the altercations to room 408. 
Alpharetta Police say when they knocked on the door, Perry answered in his underwear, but allowed them to enter.
"Scott was slurring his words and had a hard time standing," one officer wrote in his report. 
When the officers asked Perry what happened in the lobby, they say Perry yelled, "F--- you, I'm a police officer!" and "I'll have all your jobs!".  When he made a move towards the table where his service revolver was located, officers blocked his path. When he made a quick move towards his clothes, officers blocked him again "due to concerns there would be another weapon in the pile", according to the police report. When one of the officers drew his Taser, Perry allegedly yelled, "Tase me [expletive]! Tase me!"
He did. 
Perry was placed in handcuffs. His ID was found in the pocket of his jeans, and it confirmed his identity. According to Alpharetta police, Perry's service weapon was returned to an officer with the Atlanta Police's Department of Internal Affairs. A spokesperson with the Atlanta Police Department confirmed Perry has been on the force for 11 years, and is currently an undercover officer with the fugitive unit. He is on administrative leave until his hearing with Atlanta Police Chief Georgia Turner. The Department released a statement Wednesday: